EDIZIONE MULTILINGUA

ITALIANO


INGLESE


TEDESCO


FRANCESE


SPAGNOLO

Architecture & Design Australia è un nuovo sommario dell'architettura australiana che da uno sguardo approfondito a oltre 50 edifici, dalla dimora privata al monumento pubblico. Sono inclusi inoltre molti progetti che hanno vinto concorsi, contribuendo a plasmare l'aspetto energetico del design australiano contemporaneo. L'Australia - il continente più piccolo del mondo - ha un'immensa topografia e vastità di paesaggi il che gioca un ruolo importante nel dinamismo delle opere architettoniche. Sono presenti foreste tropicali umide e vaste pianure a nord, campi innevati a sud-est, il deserto al centro e fertili suoli coltivati a est, sud e sud-ovest. Circa un terzo del paese è zona tropicale e oltre un quinto del paese è deserto. L'Australia è un posto dove essere architetti può rappresentare una sfida particolare che si estende dal disegno di un impianto di tosatura funzionante con estremi di temperatura di 40 °C d'estate ai gradi sotto zero d'inverno attraverso un nuovo concetto zoologico integrato nel paesaggio dove i
visitatori possono accedere a tutte le aree di cura degli animali, fino alla costruzione di un condominio sul selvaggio terreno della costa ad est, aggrappata alla scogliera, regalando così meravigliosi panorami. È quindi giusto dire che la diversità del continente australiano crea la complessità della sua architettura e sono questi ingredienti che continuano a trasformare il palcoscenico per esprimere il linguaggio architettonico del paese così appassionante.



"Architecture & Design Australia" is a new survey of Australian Architecture that takes an expansive look at over 50 builings, from private dwellings to public monuments, and includes many award-winning projects that have helped shape the energetic state of Australian design today. It is fair to say that the diversity of the Australian continent shapes the complexity of its architecture, and it is these ingredients that continue to set the scene for the country's exciting architectural language. An index with contact information of the featured architects and designers is enclosed.
INDEX

Ashton Raggatt McDougall Marion Cultural Centre
Ashton Raggatt McDougall Shrine of Remembrance Visitors Centre
BKK Architects Wrap House
Tony Caro Architecture Broughton Anglican College CARR Design Group Hilton Hotel Adelaide
Cassandra Complex Chameleon
Dale Jones-Evans Architecture The Art Wall Denton Corker Marshall ANZAC Hall
Denton Corker Marshall with Artist Robert Owen Docklands Webb Bridge
Donaldson +Warn Architects Kings Park - Lotterywest Federation Walkway
Durbach Block Architects Commonwealth Place Durbach Block Architects The Holman House
Elenberg Fraser Huski Lodge
Peter Elliott Architecture + Urban Design Victoria Law School
fjmt Francis-Jones Morehen Thorp, Hassel Edith Cowan University, Chancellery and School of Business
Hassell Adelaide Oval Eastern Works
Drew Heath Cypress House
Donovan Hill N House
Johnson Pilton Walker Abbotsleigh Research Centre Lippmann Associates Butterfly House
Lyons Ecolinc, Science Technologies Innovation Centre
Lyons DPI Queenscliff Centre
Marsh Cashman Koolloos Architects White House
McBride Charles Ryan Dome House
McGauran Giannini Soon New Quay Docklands
Melocco & Moore Architects Hunters hill
Minifie Nixon Architects Australian Wildlife Health Centre
lan Moore Architects Air Tower
lan Moore Architects Cohen House and Studio
Morris-Nunn and Associates EcoCentre
Alex Popov + Associates Canopy Apartments
Allan Powell Architects TarraWarra Museum of Art
Harry Seidler & Associates Riparian Plaza
Stutchbury & Pape Architecture Deepwater Woolshed
Stutchbury & Pape Architecture Springwater House
Terroir Liverpool Crescent House
Terroir Peppermint Bay
Kerstin Thompson Architects Blairgowrie House
Tonkin Zulaikha Greer Craigieburn Bypass
Stephen Varady Architecture Fullagar Residence
John Wardle Architects Surfcoast House
John Wardle Architects, Hassell, NH Architecture The Urban Workshop, 50 Lonsdale Street
Wood / Marsh Architecture YVE Apartments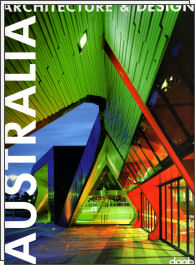 ---


A&D - AUSTRALIA

editore DAAB
edizione 2007
pagine 238
formato 25x32
hardcover + jacket
tempo medio evasione ordine
5 giorni

39.95 €
25.00 €

ISBN : 978-3-937718-77-4
EAN : 9783937718774

---