EDIZIONE INGLESE


They have even been given a name of their own: Ferraristi. What other automobile brand has its own fan club named for it?

However, Ferrari is not just a brand name, it is also a fascination: almost twenty years after the death of its founder Enzo Ferrari, his spirit and will live on. The life's work of the man from Modena, the city where he was born in 1898 and where he died 1988, is admired the world over. The rich and the prominent, the aristocracy and royalty, have insisted on picking up their Ferraris in Maranello themselves.
Over fifty years of photographs provide proof of this delivery practice.

Starting with the racing car, the Commendatore's first vehicle was for Alfa Romeo. At the turn of the 21st century, racing sport is dominated by his brand in a period of unchallenged supremacy; as an integral part of Italian culture, these sports cars with their power, speed, and tradition have become a national automobile icon.

Here they have been brought together: the eight or twelve-cylinder vehicles with their wonderful bodywork by Pininfarina or Scaglietti. Automobiles which became a part of motoring history and the personification of style for a whole generation - great moments, presented here by both authors and the photographer with just as much meticulous precision as incessant passion for the vehicles.
CONTENTS

Preface
Preface by Luca di Montezemolo
Ferrari - The Man
Ferrari - The Marque
Ferrari - The Cars

212 Export
195 Inter
166 MM
250 MM Coupé PF
250 GT
375 Plus
750 Monza
410 S
410 Superamerica
250 GT Boano
250 GT Tour de France
250 TR
335 S
250 GT Cabriolet PF
250 GT California Spyder SWB
250 GT Coupé PF
250 GT Berlinetta SWB
400 SA Coupé Aerodinamico
250 GTE Coupé 2+2
Dino 268 SP
250 GTO
250 GT Lusso
250 LM
330 GT 2+2
500 Superfast
275 GTB/4
275 P
365 GTC
365 California
Dino 206 S
712 CanAm
365 GT 2+2
Dino 246 GT
365 GTS/4 Daytona
312 P
512 M
312 PB
365 GTC/4
BB 512i
412
Dino 308 GT4
305 GTB
Mondial 3.2
288 GTO
F512 M
F40
348 ts
456 GT
F333 SP
F355 Spider
F50
575 M Maranello
360 Spider
Enzo Ferrari
Challenge Stradale
612 Scaglietti

Specifications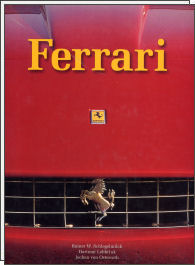 ---
R. W. Schlegelmilch - H. Lehbrink - J. von Osterroth

FERRARI

editore KONEMANN
edizione 2004
pagine 400
formato 27x31
cartonato con sovracoperta colori
tempo medio evasione ordine
a richiesta

35.00 €
19.90 €

ISBN : 3-8331-1057-0
EAN : 9783833110573

---