EDIZIONE MULTILINGUA

ITALIANO


INGLESE


TEDESCO


FRANCESE


SPAGNOLO

Artistic movements have oscillated like a pendulum between opposite trends for centuries. In some periods purity and simplicity of form were the key elements, whereas in others the leitmotif was complexity and voluptuousness, such as the Baroque styles, which reigned in Europe during the 17th and the first half of the 18th century. The Catholic Church's necessity to move and excite the people and the will of the monarchies to express their triumphant power were the principal factors, along with others which led to the birth of this style characterised by its ostentatious and over elaborate shapes.
In recent years the World of Decoration has recreated this movement splendidly with the new baroque style, based on a revamp of its characteristics, which is already being seen on the catwalks. The profusion of curved forms, the excessive use of materials and color and the mysteriousness of light and shadows have been reinterpreted in many kinds of interiors. Sometimes, the architectural structure itself is the main reason why structures like the palaces and period buildings have been carefully restored to regain their charming essence. However in other buildings it is the stark contrast between the simplicity and minimalism of the structure and this radiant new baroque decoration which triumphs. The most remarkable achievements are without any doubt the furniture — often inspired by the style of Louis XV —the decorative objects such as majestic chandeliers, candle holders, engraved mirrors and glassware. The glitter and colors such as gold, silver, burgundy and black portray the essence of baroque in this new expression of its sophisticated and luxurious nature. It is also worth remembering that the evolution of the production methods, as well as the increase in the use and quality of materials such as plastic or resin have favoured the return of the curve, in such a way that this key element of the baroque style has resurfaced as its most representative symbol.



Nel corso dei secoli si è assistito a un continuo e cadenzato altalenare di movimenti artistici che al pari di un pendolo oscillavano tra tendenze opposte. In alcuni periodi hanno optato per la purezza e la semplicità delle forme, mentre in altri hanno scelto la complessità e la voluttuosità, come è stato il caso dello stile Barocco, imperante in Europa durante il xvii secolo e la prima metà del La necessità da parte della chiesa cattolica, minacciata dal protestantesimo, di emozionare e di entusiasmare il popolo, e la volontà delle monarchie assolute di fare sfoggio del loro potere furono i fattori che, assieme ad altri, determinarono la nascita di questo stile caratterizzato da forme sovraccariche e ostentatamente vistose. Negli ultimi anni, il mondo dell'arredamento ha ricreato splendidamente questo movimento dando vita allo stile neobarocco, basato su una rivisitazione delle sue caratteristiche, già avviata sulle passerelle nel campo della moda.
La profusione di forme curve, gli eccessi nell'uso sia dei materiali che dei colori e il misterioso gioco dei chiaroscuri sono stati reinterpretati in ogni tipo di interni. In alcune occasioni a farla da protagonista è anche la stessa struttura architettonica, come nei palazzi o edifici dell'epoca che sono stati accuratamente ristrutturati con la voluta intenzione di recuperare la loro inebriante essenza. Ciò nonostante, in altri edifici trionfa precisamente il contrasto tra la semplicità e il minimalismo della loro struttura e un raggiante arredamento neobarocco. Le realizzazioni più riuscite sono senza dubbio la mobilia —ispirata molte volte allo stile Luigi XV— e gli oggetti di arredo come i maestosi chandelier, portacandele, specchi con rilievi e cristalleria. Le lucentezze e i colori come l'oro, l'argento, il bordeaux o il nero riescono a trasmettere l'essenza del Barocco in questa nuova emanazione del suo carattere sofisticato e lussuoso. Ma non va dimenticato che l'evoluzione dei metodi di produzione, così come l'uso sempre più frequente e perfezionato dei materiali quali la plastica o le resine, hanno favorito il ritorno della curva, permettendo così il recupero di uno degli elementi chiave, nonché simbolo più rappresentativo del Barocco.
INDEX

Introduction

+ Arch, Gianmaria Torno, Ferruccio Laviani | Dolce & Gabbana Paris Boutique
+ Arch, Gianmaria Torno, Ferruccio Laviani | Gold by Dolce & Gabbana
+ Arch, Gianmaria Torno, Ferruccio Laviani | Metropol by Dolce & Gabbana
ADD + Arquitectura Xavier Claramunt | Chic & Basic Born
Ana Ros Design/Ana Ros Exhibition | Casa Decor 2004
Atelier Mendini, Iglis Zorzi | Byblos Art Hotel Villa Amistà
Barbosa Space Projects/Ricardo & Tino Barbosa | Casa en Oviedo
BEHF Architekten | 2006Feb01
Carlo Dal Bianco Bisazza Showroom Berlin
Christian Ghion Chantal Thomas Boutique
Cristina Gabàs | Neri Hotel
David Collins Studio | Petrus Restaurant
David Hicks | Evé Night Club
Dix Design Architecture | Moschino Cheap & Chic
Fabio Novembre | Una Hotel Vittoria
Fantastic Design Works | Avalon
Félix Gordillo (Architecture), José María Fernàndez Mayo (Interiors) | Hotel M
Félix Gordillo (Architecture), José María Fernàndez Mayo (Interiors) | Libretto Hotel
Greek/Josep Maria Font | Tot-hom
Greg Natale Design | Ciolino House
Greg Natale Design | Superwoman
H K Hia & Associates | The Scarlet Hotel
Hecker Phelan & Guthrie | Comme Bar
Hospes Design | Hospes Palacio de los Patos
lan Schrager Company (Owner)/Michael Overington, Anda Andrei (Design) | Gramercy Park Hotel
Joi Design Innenarchitekten | Minibar Hannover
KWID/Kelly Wearstler | Body English
KWID/Kelly Wearstler | Viceroy Palm Springs
Luis Galliussi | Negro de Anglona
M41 LH2 | Helsinki Club
Marcel Wanders | Lute Suites
Masoero & De Carlo Architetti Associati | Palazzo Anguissola da Grazzano
Mohen Design International | Commerciai Office
Mohen Design International i Parkside Bistro and Bar
Patrick Jouin i Gilt
Peripheriques Architectes | Nouveau Casino
Philippe Starck | Faena Hotel Philippe Starck | Hudson Hotel
Philippe Starck | Kong Restaurant
Philippe Starck | Maison Baccarat Playground Merlbourne | Baroq House Ricardas Vysniauskas | Universal SLDesign | Amalia
Studio 63 Architecture & Design | Sixty Hotel
Tomas Alía | Nueva Fontana
Tomàs Alía | Sol y Sombra
Yoo/Philippe Starck | Yoo Copenhagen

Index
Imprint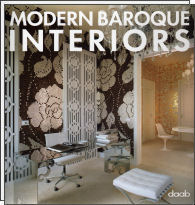 ---


MODERN BAROQUE INTERIOR

editore DAAB
edizione 2008
pagine 384
formato 22,5x22,5
hardcover
tempo medio evasione ordine
5 giorni

39.95 €
25.00 €

ISBN : 978-3-86654-017-0
EAN : 9783866540170

---