EDIZIONE MULTILINGUA

ITALIANO


INGLESE


TEDESCO


FRANCESE


SPAGNOLO

The captivating powers of far away cultures are paving the way to a new way of understanding today's decoration. Africa, Indonesia, Morocco and South America have now become sources of inspiration when it comes to providing spaces with color, texture and exotic materials.
The ethnic style is inspired by warmth and tranquility, in keeping with the desire to live in natural and healthy environments. The spaces we live in have to be increasingly more harmonious to provide well-being and to reduce the stress of our everyday lives. The choice of colors, the visual balance of the accessories and a distinguished selection of pieces from lesser known cultures will help to create environments inspired by the peaceful lodges of Africa, or Bedouin tents with their large Moorish cushions.
Ethnic decoration is rich in handcrafted furniture, primarily made from teak, bamboo or rattan. Natural fiber upholstery in organic tones combine with geometric pictures inspired in African motifs, or animai skins. Equally multicultural are the accessories, characterized by delicate items in wicker, rush curtains, raffia rugs, and handcrafted baskets, or by pottery in the form of totemic gods or tribal masks.
Lighting is an essential tool for enhancing the pleasures of the senses. Moroccan lamps made from plant fibers will help to create warm and cozy atmospheres. The same is the case for leather lamps with mesh structures and designs in henna, metal fretwork lamps, which are ideai for terraces or gardens, or candelabras, which can be used for anything from perfumed candles and incense to joss sticks.
This book presents the best projects inspired in the fusion, hybridization and powers of pagan rites. For international architects and designers, what follows is a true showcase of the best in contemporary design and offers the latest trends in ethnic style. This is where eccentricity becomes a comfort to the senses.



L'accattivante attrazione esercitata da culture lontane apre la strada a una nuova maniera di intendere la decorazione attuale. L'Africa, l'Indonesia, il Marocco, l'America del Sud diventano fonti d'ispirazione quando occorre creare l'atmosfera adeguata con colori, motivi e materiali esotici.
Lo stile etnico trae ispirazione dalle sensazioni di comfort e tranquillità, appropriate al desiderio di vivere in ambienti naturali e sani. Gli spazi nei quali ci muoviamo tendono a essere sempre più armoniosi allo scopo di contribuire al benessere personale e di alleviare lo stress quotidiano. La scelta dei colori, l'equilibrio visuale degli accessori e una oculata scelta di oggetti provenienti dalle culture più recondite aiutano a creare ambienti che si ispirano ai placidi lodge africani o alle tende tradizionali arabe, cosparse di comodi cuscini moreschi. Nella decorazione in stile etnico riveste grande importanza la mobilia in legno, specialmente di teca, bambù o canna d'india, tappezzata con fibre naturali dai toni crudi che si combinano con disegni geometrici ispirati a motivi africani e alle pelli di animali. Sulla stessa linea multiculturale, i mobili ausiliari sono caratterizzati dalla finezza del vimini, dalle stuoie usate come tendaggi, dai tappeti di rafia, dalle ceste di vimini lavorate artigianalmente e dal vasellame, come le ceramiche rappresentanti divinità totemiche e maschere tribali.
L'illuminazione è essenziale per contribuire alla gioia dei sensi. Le lanterne marocchine di latta o di bronzo fatte a mano e le lampade con schermi in fibra vegetale aiutano a creare ambienti intimi e accoglienti. Stesso risultato producono le lampade di pelle con armatura in ferro battuto e disegni in ligustro, le lampade con paralumi traforati, ideali per terrazze e giardini, e i candelabri, dagli usi diversi, atti ad accogliere candele profumate, incensi e sostanze aromatiche.
Di seguito offriamo un assaggio dei migliori progetti ispirati alla fusione, all'incrocio, alla forza dei riti pagani. Sotto l'egida di architetti e designer di fama internazionale, questo libro aspira a diventare un'autentica vetrina del miglior design contemporaneo e presenta le ultime tendenze dello stile etnico, in cui la stravaganza delizia i sensi.
INDEX

Introduction

Abraham Ariel, Philip Gonda | Atzaró
Alexander Gorlin Architects | The Gorlin Tower at Aqua
Anne Judet, Catherine Le Chevallier | Syrie-Mansourya
Anneke van Waesberghe | Tropical House
Arthur Casas Arquitetura e Design | House in Iporanga
Arthur Casas Arquitetura e Design | Natura
Bruno Caron, Hassan Hajjaj | Andy Wahloo
Bruno Reymond | L'Elephant
Bruno Reymond, Olivier Mourao | KM5 Lounge
Budji Living Bangkok/ Budji Layug | Budji Layug Showroom
By the owner | A farm in Africa
By the owner | A piace in the sun
Carole Lecomte | The Gardens of Skoura
Cecile and Boyd's Interior Design | Singita Lebombo
Christian Aronsen | Blond Café
Christof Wahrich (owner) | Between two worlds
Daniel Lipszyc | Hotel Hacienda Na Xamena
DIS lnredning/Gabrielle Jangeby | Puro Beach Club
Elena Stanic | Elena Stanic Apartment
Emery & Cie/Agnès Emery | A blue Ryad
Heinz Legler & Veronique Lievre (owners) | Verana in Mexico
Hut Sachs Studio | Foley and Corinna
Ignacio García de Vinuesa, Juan Sobrino | Mosaiq
Inni Chatterjee, Samir Wheaton (owners) | Poddar House
Jéróme Abel Seguin | House of other world
Jérórne le Maire, Sylvia Sepulchre | Lemaire
John Moon | Bambuddha Grove
K&E Interior Design AB/Katarina & Eric van Brabandt | Opio
Lazzarini Pickering Architteti | Villa del Settecento a Positano
Manish Arora Fish Fry | Arora House
Michael & Anthea Methven | Methven House
Nicholas Plewman Architects, Chris Brown | Phinda Zuka Lodge
Philip-Didier Fouligny Pondok Bikou
Preston T. Phillips | Casa EI Wellington
Rajiv Saini & Associates | Girnar
Rajiv Saini & Associates | Karma
Riad Enija | Moroccan Nights
Riad Vert / Isabel & Dominique Penot | Riad Vert
SARL.DUC/Christian Duc | Small House
Selvaggio SA | House in Crans sur Sierre
Silvio Rech, Lesley Carstens, Architecture & Interior Architecture | Makalali Camps
Sue Rohrer SA, Architecture & Interiors | Casual Cosiness
Víctor Espósito (owner) | House in Ibiza

Index
Imprint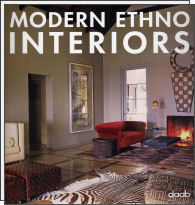 ---


MODERN ETHNO INTERIOR

editore DAAB
edizione 2008
pagine 384
formato 22,5x22,5
hardcover
tempo medio evasione ordine
5 giorni

39.95 €
25.00 €

ISBN : 978-3-86654-019-4
EAN : 9783866540170

---