EDIZIONE MULTILINGUA

INGLESE


TEDESCO


FRANCESE





Throughout history, people have sought to deal with life's great mysteries, such as the origin of life and the forces that drive the world, by devising stories and creating imageries. This book is an extensive pictorial survey of these imageries: more than 1,500 pictures of mythological scenes, spirits, gods, idols and all sorts of fantastic creatures. They have been taken from cultures from all over the world and are represented with short descriptions. Together, these images make for a unique catalogue of the most fascinating features of human culture.
All images are stored on the enclosed free CD-ROM and are ready to use for a variety of applications, including graphics, fashion and web design.
INTRODUCTION

This book offers an amazing selection of mythological depictions from all over the world, and with that a unique catalogue of the human imagination. There are many good books on mythology, but this is the first publication that focuses on visually striking images. So while searching for images, special attention has been given to idiosyncracy, visual impact, and artistic quality, and thus usefulness for creative people.

The book's sequence is based on a mixture of regional and historical criteria. It starts with the Ancient Middle East and Egypt, the regions that gave us the first known names of gods and mythical heroes. The 2nd chapter is devoted to the extremely rich mythology of Greek and Roman Antiquity and their immediate precursors from Mycenaean civilization. The 3rd chapter deals with the cultures of Ancient and Early Mediaeval Europe, such as the Celts, Germans, Vikings, and Slavs, and the pagan traditions that lasted long after Europe was Christianised. Chapter 4 shows mythological images from Judeo-Christian Europe: the Old and New Testaments.
The chapter on Hinduism and Buddhism presents an overview of the pantheon and mythological scenes of Hinduism, and of Tibetan Lamaism and Southeast Asian Buddhism, which originated from the same Indian source.
The 6th chapter, on East Asia, shows mythological images of Buddhism as it later spread to China and Japan, and of other Chinese and Japanese religions and superstitions.
The peoples of Oceania originated from the Asian continent: tens of thousands of years ago, they migrated southward from the Southeast Asian continent to the Indonesian archipelago, New Guinea, Australia, etc. Other groups set sail from south China and Taiwan and spread over the islands of the Pacific as far as Easter Island. Chapter 7 deals with this vast expanse. About twelve thousand years ago, small groups of people left the shamanist cultures of Siberia and crossed the land bridge to Alaska. They were the ancestors of the American Indians. Chapter 8 shows examples of the mythological imagery of their descendants, the native peoples of Indian America.
The last chapter deals with the cradle of mankind, Africa. The mythologies of this continent are as manifold as the genetic variation of its peoples and the many cultures they developed.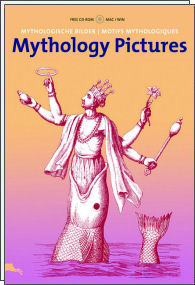 ---
aa.vv.

MYTHOLOGY PICTURES + CD ROM

editore PEPIN
edizione 2006
pagine 488
formato 15x22
flexi cover
tempo medio evasione ordine
5 giorni

19.50 €
10.00 €

ISBN : 90-5768-066-1
EAN : 9789057680663

---