"Nonna Genia remains the most complete and exhaustive cookbook on the cuisine of the Langhe... whoever would strive today to know the Langhe would do well to read it."
Carlo Petrini, International President and Founder, Slow Food International

"The first translation of a near-legendary Piedmontese cookbook which celebrates traditional country fare... Both the authors and the translator helpfully include many brief notes on the origins of dishes, their relation to local history, and the places they traditionally occupy in a meal. Simple and utterly charming."
Kitchen Arts & Letters, New York

"The most authoritative and thorough cookbook of Piedmontese cuisine."
altacucinasociety.com

"Nonna Genia took me on a sentimental journey stretching from the Piedmont to New York, and as I turned its pages, marvelling at how much was familiar, I came to understand its greater significance... A book like Nonna Genia renews our respect for tradition."
Laura Maioglio
owner of Barbetta Restaurant in New York City

The history of Nonna Genia's Classic Langhe Cookbook begins long before the publication of its first edition in 1982. Nonna Genia, born Eugenia De Marchi (1864-1950), was the grandmother of Luciano De Giacomi, founder of the Ordine dei Cavalieri del Tartufo e dei Vini d'Alba [The Order of the Cavaliers of the Truffle and Wines of Alba].
De Giacomi, together with the chemist, journalist and psychologist Beppe Lodi, researched and collected the 100 recipes of Alba and the Langhe which are the body of the original cookbook. They decided to honour the memory of Nonna Genia by naming the book for her [...] Since the publication of our first Italian edition, Nonna Genia has become a perennial favourite; the Italian edition is now in its tenth
printing.
This edition of Nonna Genia includes a series of innovative recipes by today's top Piedmontese chefs who are called "Stelle del Piemonte". These talented chefs were invited, especially for this English edition, to use their creative expertise in preparing their own versions of the time-honoured classics of Nonna Genia, thus demonstrating the permanence of tradition.
CONTENTS

Preface by the Publisher

A Portrait of Luciano De Giacomi by Carlo Petrini

Nonna Genia: The Value of Tradition by Laura Maioglio

Nonna Genia as Seen by an Italian Food Writer in 2007
by Roberta Corradin

The Cuisine of the Langhe: Emotions and Seasons by Beppe Lodi

My Land, Myself by Luciano De Giacomi

Memories of Nonna Genia by Antonio De Giacomi

One Hundred Recipes of Alba and the Langhe
collected and researched by Beppe Lodi and Luciano De Giacomi

A Brief Catalogue of 18 Langhe Wines by Roberto Macaluso

Man, Animals, Land, Food photographs by Aldo Agnelli

Nonna Genia's Recipes as Seen by the "Stelle del Piemonte"

Nonna Genia Yesterday, Stelle del Piemonte Today: The Gastronomic Tradition of the Langhe as the Heart of Today's Piedmontese Cuisine by Franco Bergamino

The Recipes of the "Stelle del Piemonte"

Glossary of Piemontese Terms

English-Italian Index

Italian-English Index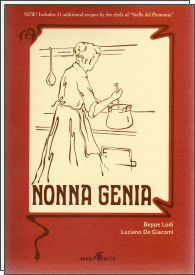 ---
Beppe Lodi - Luciano De Giacomi

NONNA GENIA - english

editore ARABA FENICE
edizione 2007
pagine 286
formato 15x21
brossura con alette
tempo medio evasione ordine
ESAURITO

20.00 €
20.00 €

ISBN : 88-86771-93-1
EAN : 9788886771931

---