EDIZIONE MULTILINGUA

ITALIANO


INGLESE


TEDESCO


FRANCESE


SPAGNOLO

Describing the pulse of architecture in the Americas today, especially as represented through the work of talented, young practitioners, is a challenging endeavor. Comprised of varying topographies and split by numerous economic, cultural and historical differences, North, Central and South America offer not one distinctive visual landscape, but rather a plethora of innovative emerging trends in the field of contemporary architecture.
The very process of practicing architecture in the 21st century is one of constant evolution. Breathtaking new technologies, such as Building Information Modeling (BIM) among others, are affecting the possibilities for both the rendered image and the final product. Such advances in technological precision, guided by a cultural urgency for advancement, propel the architectural landscape at rapid speed. In contemporary cities such as Los Angeles, Vancouver, Säo Paulo, Mexico City and New York, there is a rising class of practitioners with an eye toward revamping the architectural legacies of the past. New standards for everything from urban planning and high-rise development to affordable and single-family housing are being rethought as the enthusiasm and dilemmas of our modern world prevail. And while difficult to ascribe one metric, style or building technology to these vastly different centers, there are obvious intellectual and technological connections that increasingly bind them.
We now live in a world where the collective knowledge of what makes good design is exponentially increasing, and where issues of sustainability and preservation have never been more important. The highly sophisticated works of the young practitioners chosen in this publication are not only at once innovative, fresh, enlightened and boundless in their aesthetic bravery, they are also without fail destined to stir a lasting imprint upon the architectural community - and indeed the architectural record of the 21st century.
"Young Architects Americas" presents an aspirational collection of young practitioners who we believe will forever change the balance of our profession.



Descrivere dove oggigiorno in America batte il polso dell'architettura, in particolare tramite le opere di giovani architetti di talento, diventa una vera sfida. Composta di svariate topografie e suddivisa in numerose e diverse realtà economiche, culturali e storiche, La America del Nord, Centro e del Sud non si presentano con una sola caratteristica fisionomia, ma piuttosto con un'abbondanza di trend innovativi nell'architettura contemporanea.
Proprio i1 processo di praticare l'architettura, nel 21esimo secolo si presenta in costante evoluzione. Nuove tecnologie mozzafiato come il BIM (Building Information Modeling) tra altro arricchiscono le applicazioni possibili sia per l'immagine che per il prodotto finale. Questi progressi nella precisione tecnologica, guidati da un'emergenza culturale di miglioramento, velocizzano fortemente 10 sviluppo del paesaggio architettonico. Nelle città contemporanee come Los Angeles, Vancouver, São Paulo, Mexico City e New York, si trova un numero crescente di architetti che tengono d'occhio la trasformazione delle eredità architettoniche del passato. Nuovi standard per tutto, dalla pianificazione urbana allo sviluppo di grattacieli come anche di case residenziali alla portata di tutti vengono riconsiderati, visto che l'entusiasmo ma anche le necessità del ns. mondo moderno si fanno strada. E mentre risulta difficile assegnare un solo sistema metrico, uno stile o una tecnologia costruttiva a questi centri urbani cosi diversi, ci sono ovviamente legami intellettuali e tecnologici che Ii uniscono sempre di più.
Oggi viviamo in un mondo dove la conoscenza collettiva di che cos'è un buon design aumenta esponenzialmente e dove Ie tematiche della sostenibilità e del rispetto per l'ambiente non sono mai stati più importanti. Le opere molto sofisticate dei giovani architetti scelti per questo volume non solo sono innovative, fresche, illuminate ed illimitate nella loro bellezza estetica, ma sono anche immancabilmente destinate a lasciare una duratura impronta sulla collettività architettonica - ed infatti la cronistoria dell'architettura del 21esimo secolo.
Nel volume Young Architects Americas, presentiamo una rassegna di giovani architetti di cui siamo certi cambieranno per sempre il bilancio della nostra professione.



INDEX

Introduction

Ricardo Abuauad Abujatum | Santiago
Juan María Altgelt & Asociados | Buenos Aires
Andrade Morettin Arquitetos Associados | São Paulo
Arditti+RDT arquitectos | Mexico City
arquitectura 911sc | Mexico City
Assadi & Pulido Architects | Santiago
Atelier in situ | Montreal
atelier TAG | Montreal
José Ricardo Basiches | São Paulo
BattersbyHowat | Vancouver
Beige Architecture and Design | Berkeley
BH / Broissin y Hernández
de la Garza | Mexico City
Blank Studio | Phoenix
Daniel Bonilla Arquitectos | Bogotá
Renata Furlanetto, Flavia Cancian | São Paulo
Ganda Gazaneo Ungar arquitectos | Buenos Aires
Christoff:Finio Architecture | New York
Contemporary Architecture Practice | New York
dellekamp arquitectos | Mexico City
EMERGENT Tom Wiscombe | Los Angeles
George Yu Architects | Los Angeles
Gnuform | Los Angeles
Higuera + Sánchez | Mexico City
Höweler + Yoon / MY Studio | Boston
lwamotoScott Architecture | San Francisco
Mathias Klotz | Santiago
LAR / Fernando Romero | Mexico City
Lewis.Tsurumaki.Lewis | New York
Jaime Varon, Abraham Metta, Alex Metta /
Migdal Arquitectos | Mexico City
nArchitects | New York
OBRA Architects | New York
Ogrydziak / Prillinger Architects | San Francisco
Patterns | Los Angeles
Predock_Frane Architects | Los Angeles
Preston Scott Cohen | Boston
Sean Ahlquist/Proces2 | San Francisco
PRODUCTORA | Mexico City
Ramirez - Moletto arquitectos
asociados | Santiago
REX | New York
rojkind arquitectos | Mexico City
SHOP Architects | New York
Slade Architecture | New York
Studio Gang Architects | Chicago
Tighe Architecture | Los Angeles
Volvox/Ihaki Echeverría | Mexico City
Xefirotarch - Hernán Díaz Alonso | Los Angeles
Zakrzewski + Hyde Architects | New York

Index
Imprint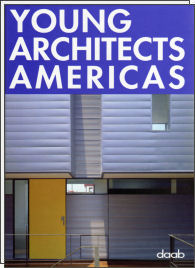 ---
aa.vv.

YOUNG ARCHITECTS AMERICAS

editore DAAB
edizione 2007
pagine 384
formato 18x23
hardcover
tempo medio evasione ordine
5 giorni

25.00 €
16.00 €

ISBN : 978-3-937718-70-5
EAN : 9783937718705

---